Filemaker Modules
Filemaker modules are building blocks. They are not ready-made solutions, but rather building blocks to create solutions. The idea of Filemaker modules comes from Todd Geist. The original website elaborates on the idea and has many more modules:
We created this own website to be able to focus both on FM Starter and on own developments of modules. We also can support them here in both english and german.
Also check the Download page.
QuickSort module for Filemaker Pro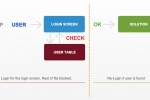 Eine Benutzerverwaltung für Filemaker Pro.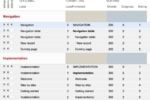 Create a dynamic navigation, based on a single navigation table.