FM Starter 1.60 released
Today we released a free update for FM Starter. In version 1.60 we fixed some bugs, added a few thousand SVG files for buttons and made the first impression cleaner and leaner.
How do you get your update?
Anyone who purchased FM Starter in 2016 has received an update link and finds the download in his order for the product. Anyone who purchased FM Starter before 2016 did so on another system, and we cannot automatically update your orders. Contact us for more details.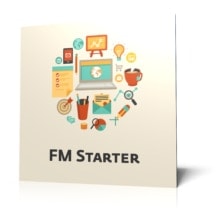 Check the preview version
http://fmstarter.com/en/?ddownload=1197